Short Term Weight Loss is a Good Starting Point…
but Balanced Weight Management After Dieting Should be Your Ultimate Goal
There are 3 critical things to understand about weight loss that will help you maintain a stable weight after dieting:
One of the greatest hazards of dieting is losing muscle mass along with fat.
Muscle is required to burn calories. Therefore, when you decrease your muscle mass via dieting, you will have less muscle to burn calories after you return to your regular eating patterns. In other words, you will regain your lost weight. In fact, according to the National Institutes of Health, dieters regain almost all of their lost weight within 5 years after dieting.
If you start dieting again you will lose yet more muscle, further inhibiting your ability to burn calories.
And thus the hopeless cycle of yo-yo dieting is set…unless you've chosen the Ideal Protein Weight Loss Method.
Call Now 604-303-6343 and Ask Us About Your Initial Weight Loss Assessment…Our Medically Developed Diet Protocol can be Tailored to Just About Any Individual, Regardless of Your Weight Loss Goals.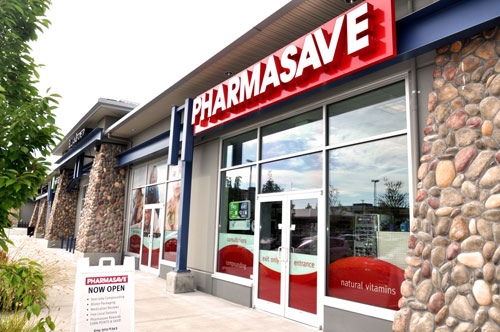 At Pharmasave, you can fill a prescription from our dispensary and compounding pharmacy, look for blood pressure monitor and sports medicine supplies, or get help on weight loss and maintaining your ideal weight all in one stop. We ensure personalized assistance from our friendly and knowledgeable staff to help you make informed decisions about the health of you and your family. Pharmasave at Sullivan Square is an independently owned pharmacy serving the community of Surrey, BC. Our mission is meet or exceed the needs of our patients and customers by providing efficient, caring, professional and cost effective services in an environment that encourage excellence, teamwork, innovation and continuous improvement.
Contact us today, and ask why Ideal Protein educates dieters to make better lifestyle choices and smarter eating habits…
Our medically developed weight loss protocol and smarter lifestyle choices education offers dieters what they really want…a structured program that can put an end to constant dieting.
Business Hours
Monday to Friday:
9:00am - 6:00pm
Saturday, Sundays & Holidays:
Closed
Pharmasave Sullivan Square is Authorized to Use the Ideal Protein Weight Loss Protocol and Products. The testimonials on this website are those of the individual that is identified, you should not necessarily expect to receive these results. Typical results vary from person to person and individual to individual when the Ideal Protein Weight Loss Protocol is followed properly. You should consult your physician or other health care professional before starting this or any other diet program to determine if it is right for your needs.
Unit 106 - 15325-56 Ave Surrey BC V3S0X9 – Phone: 604-303-6343
Copyright © 2018 Ideal Protein All rights reserved.